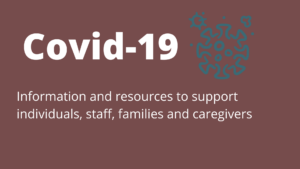 Public Health Ontario has created a fact sheet of information related to the covid 19 vaccines. Please see the link HERE
Plain language is used to to help the people we support understand information. Please see the resources below that we found on the Community Living Toronto website to help explain the COVID-19 vaccines using plain language:
What to Happens When I get the Vaccine?
DISCLAIMER: The materials provided on https://clnh.on.ca/ (the "Site") are for educational and informative purposes only, do not constitute legal or professional advice, and are not guaranteed to be accurate, complete or up-to-date.  You should not rely on the information herein without seeking professional advice. The Site contains links to third-party websites, which are not under our control and Community Living North Halton makes no representations or recommendations as to the accuracy of the information therein.  Use of and reliance on any information or materials provided on this Site or any linked website is at your own risk.