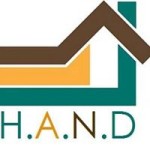 Lending a hand to family members who have a developmental disability with their alternative housing needs.
The Housing Alternatives Network Directive, has been formed thanks to a grant from the Ontario Trillium Foundation. H.A.N.D will focus it's time and energy into searching out new and existing housing models of livable, sustainable, affordable and inspiring housing solutions for people who have a developmental disability in the Halton Region.
H.A.N.D's co-ordinator will bring like minded families together to facilitate dialogue and encourage networking by holding small group meetings and the use of social media to share housing related ideas and information.
By working along side families and community partners, H.A.N.D hopes to find the means to turn ideas into tangible plans.
Partners in HAND: Community Living North Halton, CL Burlington, and CL Oakville, Bob Rumball Associations for the Deaf and Christian Horizons.
To connect with HAND or for more information please email althousing.ac@gmail.com or contact: Amber Armstrong
905.336.2225 ext 315 or Fax: 289.337.8113