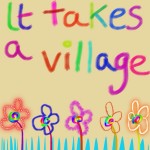 Did you know that CLNH receives support from many other community charities?
The Milton Salvation Army donated space to run a week of our summer camp. They were most gracious and accommodating and we were in a bit of a pinch to find space. We are so grateful to them for this.
We are also grateful to other churches who support us all year long with space for Saturday Centre (St. John's United Church in Georgetown); Friday Friends (Knox Presbyterian Church in Milton and St. George's Anglican Church in Georgetown).
Without these churches we would be hard pressed to run these valuable leisure programs that are also funded by the United Way.
It is amazing that St. John's has been doing this for more than 20 years and St. George's for at least 10 years. Knox is so accommodating for our Friday Friends and also works in several weeks of camp space for us each summer.
It truly takes a village.  Thank you.