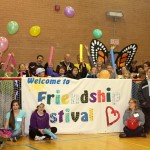 Fall Friendship Festival
Saturday, October 28, 2017
ClearView Church, Oakville, Ontario
10:00am. to 2:00pm.
Don't miss all the fun and excitement of another festival…
We'll sing and laugh, play games and activities and enjoy spending time together. Come and be surprised!
Our theme for the day will be "Every Praise…", based on the song by David Bratton.
The location is ClearView Christian Reformed Church, 2300 Sheridan Garden Drive in Oakville. The activities run from 10:00am until 2:00pm. and lunch is provided. The cost is $10 per person (cash or cheque "Friendship Festival"), to be collected at the door. Everyone is invited to attend – friends, mentors and volunteers, parents, family members, staff members and the general public.
TO REGISTER… Please send a list of names of everyone attending – friends, volunteers, parents, mentors – to Marlene Nirula at marlene.nirula@gmail.com. Indicate if the person attending is a friend, mentor, volunteer, staff member or parent. For more information about the festival, contact Herb Goodhoofd at 905-469-9295.d at
DIRECTIONS TO THE CHURCH… The church is located at 2300 Sheridan Garden Drive, southeast of the QEW in east Oakville.
From the QEW from Toronto… Take the Ford Drive exit, just past Winston Churchill Blvd. Turn left (south) on Ford Drive. Go one kilometre south to the church, on the corner of Ford Drive and Sheridan Garden Drive.
From the QEW from Hamilton… Go one exit past Trafalgar Road on the QEW and take the Ford Drive exit. Turn right (south) on Ford Drive and go one kilometre to the corner of Ford Drive and Sheridan Garden Drive. The church is on the southeast corner.
Please forward this email to others who might enjoy this event.
Visit www.weloveourfriends.com for photos of previous festivals and for more information.
Sign up now… we look forward to seeing everyone in Oakville on October 28.