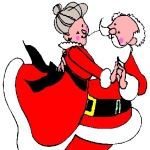 CLNH Christmas Dance Tickets are now on sale. Please click the HERE link for details and flyer.
This is a family-friendly event – families of the adults and children we support are welcome to attend and enjoy this fun night filled with dinner, dancing and a visit from Santa!
NOTE:
– Location has changed from previous years: New location – Acton Legion
– New Menu: Roast Beef Dinner (check details for kid's meal and vegetarian option)
– Same Price as in previous years: $20 Self Advocates; $40 Family/Guest; $20 for kids 12 and under; working staff eat free
Tickets will not be sold or handed out at the door – you must purchase before November 28th and pick up before December 9th.
For tickets: call or email Paula Woods: 905-878-2337 x 255 or pwoods@clnh.on.ca